\
Lyric & Spirit: An International Celebration of Women's Voices
The Reser Presents
Lyric & Spirit: An International Celebration of Women's Voices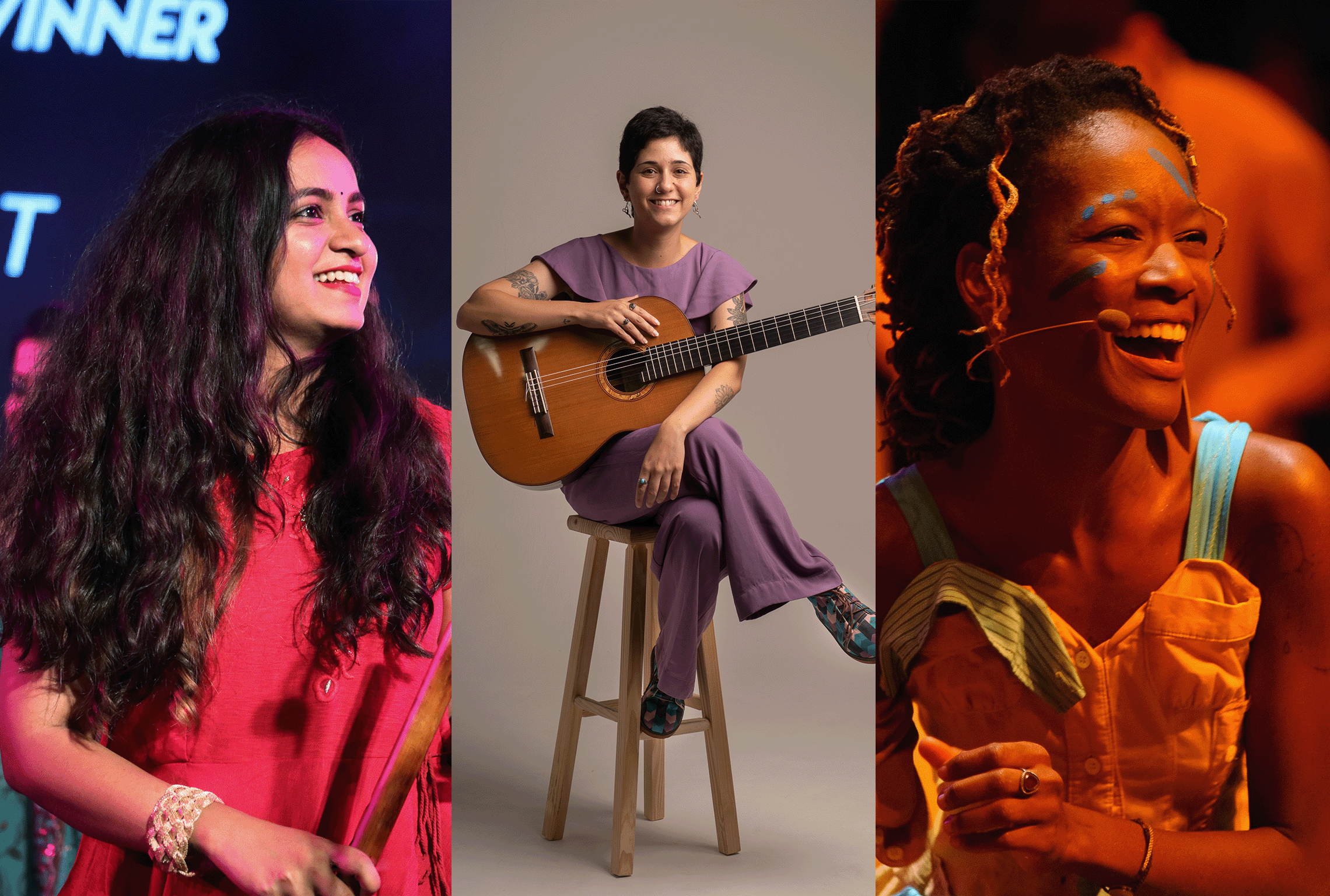 The Reser Presents
Lyric & Spirit: An International Celebration of Women's Voices
Date
October 25, 2023
7:30pm
Pricing
$25 – $45
An international celebration of women's voices, Lyric and Spirit brings together female singers from around the world. Honoring the amazing variety and quality of female vocalists, the inaugural tour features innovative singer and guitarist Luísa Lacerda from Brazil, renowned Carnatic singer and flutist Varijashree Venugopal from India, and multi-talented vocalist Lenna Bahule from Mozambique.
In the style of International Guitar Night, each vocalist performs a solo set followed by a collaborative set showcasing the blending of their global cultures (plus a flute solo by Varijashree). This fall, take off on a musical trip around the world with Lyric and Spirit.
LENNA BAHULE:
Lenna Bahule is a multi-talented artist—a Singer, Art Educator, and Cultural Activist, born in Maputo, Mozambique. She's deeply involved in researching exchanges with the Afro cultures and social movements of her country and other African diasporas.  In Brazil where she lived for 7 years, she funded research about vocal music and the different ways of using the voice and body as a musical instrument and for artistic expression.
VARIJASHREE VENUGOPAL:
Varijashree was born to musician parents Sri H.S. Venugopal and Smt. T.V. Rama.  She was found to have the rare ability to identify about 50 ragas when she was an 18-month-old toddler and about 200 ragas at the age of 4.
 Having trained in one of the strongest classical forms of music – Carnatic, Varijashree finds her own space and unique language by interspersing different genres of music and merging into various musical cultures, yet retaining the authenticity of her musical roots. These cross-cultural experiments have led to her work as a composer and songwriter spread across a variety of platforms such as Playback singing for Films, Tele soaps, Theatre productions, Short films, Albums, etc.
LUISA LACERDA:
Luísa Lacerda is a Brazilian singer and guitarist, who graduated in classical guitar from the Federal University of Rio de Janeiro (UFRJ) and has a master's degree in musicology from the Federal University of the State of Rio de Janeiro (UNIRIO). With her melodious voice and refined instrumental performance, she works in the production of her own shows, disseminating innovative work, with an emphasis on the dissemination of songs by new composers of the contemporary scene.
Sponsored by TriMet
Buy Tickets