\
ANNELIES: THE VOICE OF ANNE FRANK
Choral Arts Ensemble of Portland Presents
ANNELIES: THE VOICE OF ANNE FRANK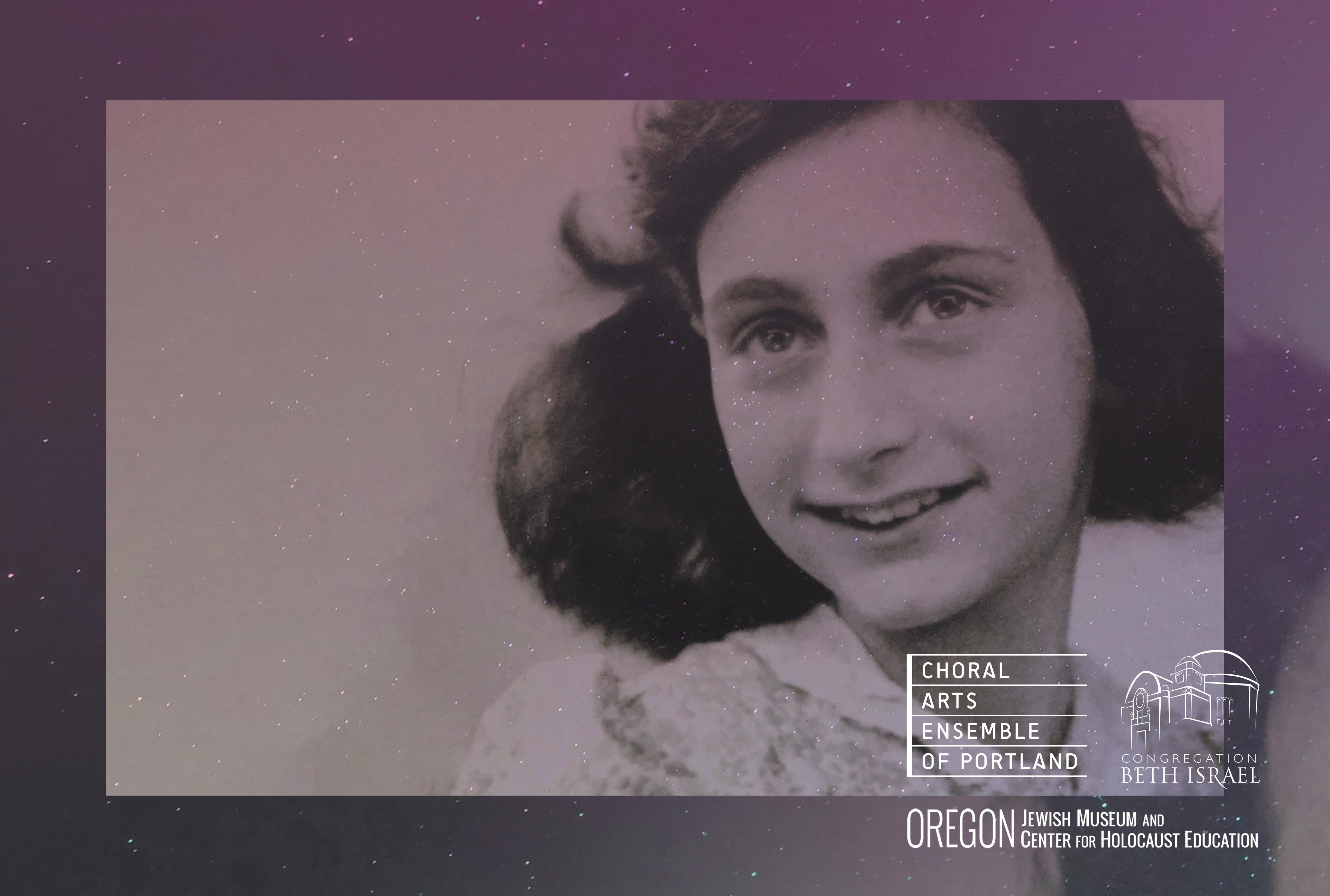 Choral Arts Ensemble of Portland Presents
ANNELIES: THE VOICE OF ANNE FRANK
Date
October 14-15, 2023
Pricing
$26
Co-sponsored by the Oregon Jewish Museum and Center for Holocaust Education with support from Congregation Beth Israel
James Whitbourn's "Annelies" brings to life the diary written by Anne Frank and has been described as "woundingly beautiful" (The Daily Telegraph). Set to music in 2005 by the British composer, it takes the teenager's remarkable and penetrating observations, written whilst hiding in an Amsterdam attic, as the basis of its extraordinary and moving libretto. He reflects sounds of the Westerkerk bells and tunes heard on the radio in the Annexe, along with representations of Anne Frank's Jewish and German heritage, details that add to a score "whose respectful understatement is its greatest strength" (The Times).
Anne's insights into the fears, hopes, courage and strength experienced as a young Jewish girl in hiding have been ordered into a sequence which tells the story of a whole people who suffered throughout the holocaust, a period which eventually claimed the life of Anne, and six of the seven others with her in hiding, along with six million other Jews.
From the windows, Anne looked up to the beauty of the sky, and downwards to the brutality meted out by the Nazis. The contrasting sights inspired some of the most profound and memorable thoughts in an extraordinary diary, read by millions of people throughout the world. The libretto is compiled and translated by Melanie Challenger from Anne Frank's "The Diary of a Young Girl."
This dramatic work is set for chorus, soprano soloists and four solo instrumentalists: clarinet, violin, cello and piano.
Currently celebrating its 55th season, CAE is Portland's choir, both geographically and in spirit. We uphold our tradition of choral excellence, sharing a passion for our art while having a little fun along the way. As one of the region's premiere choral ensembles, we continue our tradition of building community, educating, enriching, and entertaining our audiences with exceptional performances of unique and diverse programming performed at the highest artistic level. We are singers who represent a variety of professional occupations and diverse singing experiences, but we have all joined for a simple reason – passion – for music, for our fellow singers and for our audiences. Through artistic excellence and creative collaboration, we are committed to creating inspiring concert experiences.
Buy Tickets