Beaverton Symphony Orchestra Presents
Fall Concert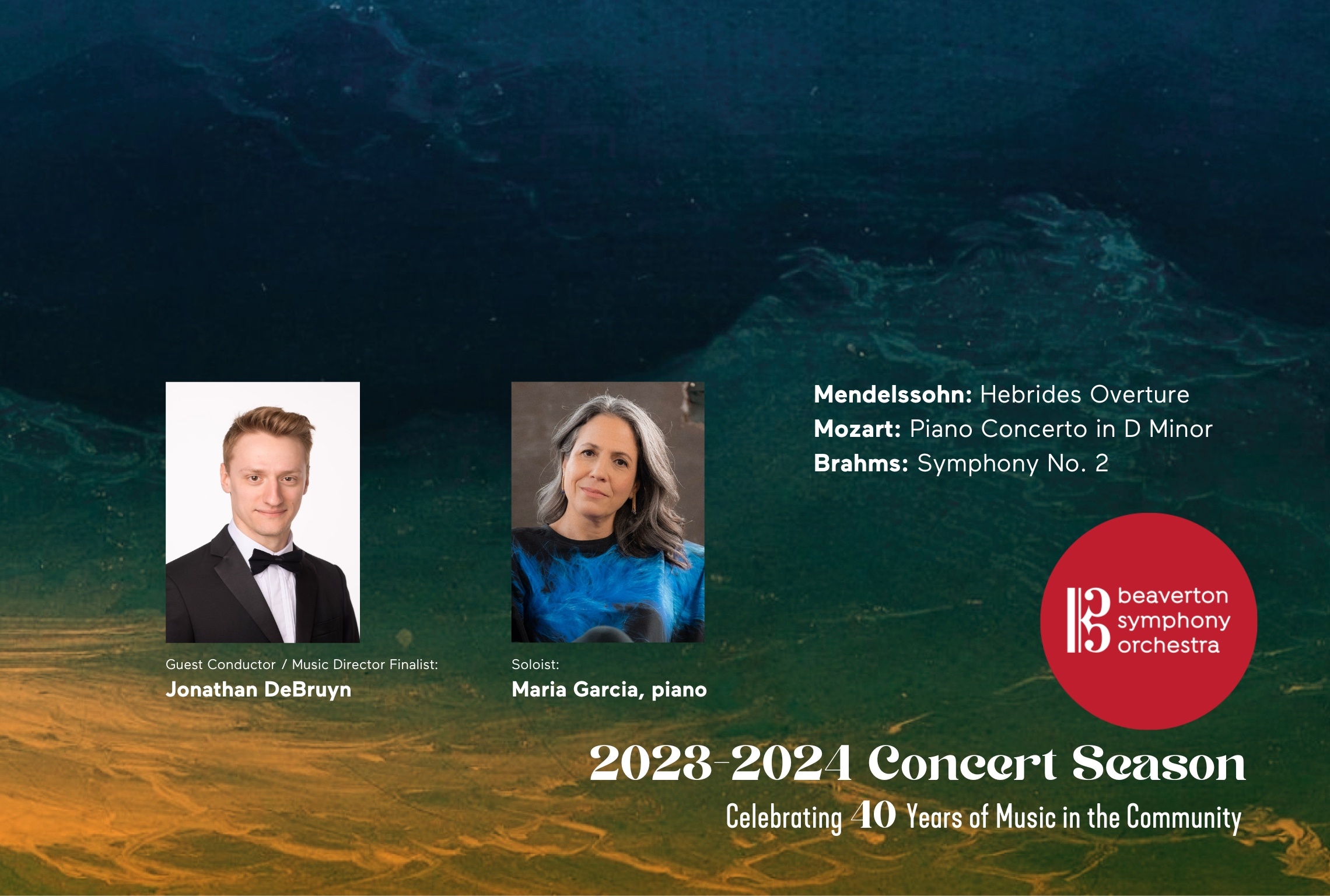 Beaverton Symphony Orchestra Presents
Fall Concert
Date
November 03, 2023
7:30pm
Pricing
$14 – $19
Prepare to embark on a remarkable musical journey at the Beaverton Symphony Orchestra's highly anticipated opening concert for the 2023-2024 40th Season. This monumental event celebrates four decades of musical excellence and features a program that encapsulates the heart of classical music.
Guiding us through this captivating evening is our guest conductor and Music Director finalist, Jonathan DeBruyn.
The concert begins with Mendelssohn's "Hebrides Overture," a composition that transports you to the enchanting landscapes of the Scottish Isles. Jonathan's expert direction will bring out the rich textures and dramatic crescendos, immersing you in the music's spellbinding allure.
Next, be entranced by Mozart's "Piano Concerto in D Minor," featuring the remarkable piano soloist Maria Garcia. Her virtuosity, guided by Jonathan's masterful conducting, will breathe life into Mozart's timeless masterpiece, weaving a tapestry of emotion and elegance.
The grand culmination of the evening is Brahms' "Symphony No. 2," a symphonic masterpiece that balances lush melodies with bold, triumphant themes. This symphony's sweeping crescendos and intricate harmonies will leave you spellbound, touching your soul with its sheer beauty.
Join us for a night of musical brilliance, conducted by Jonathan DeBruyn, as we celebrate 40 years. Be captivated by Mendelssohn, moved by Mozart, and uplifted by Brahms—a true hallmark of our 40th season. Secure your seats today.
Jonathan DeBruyn, Guest Conductor
Mendelssohn – Hebrides Overture
Mozart – Piano Concerto in D minor with Maria Garcia, piano
Brahms – Symphony No. 2 in D Major, Op. 73
Buy Tickets