The Reser Presents
Joe Kye & The Givers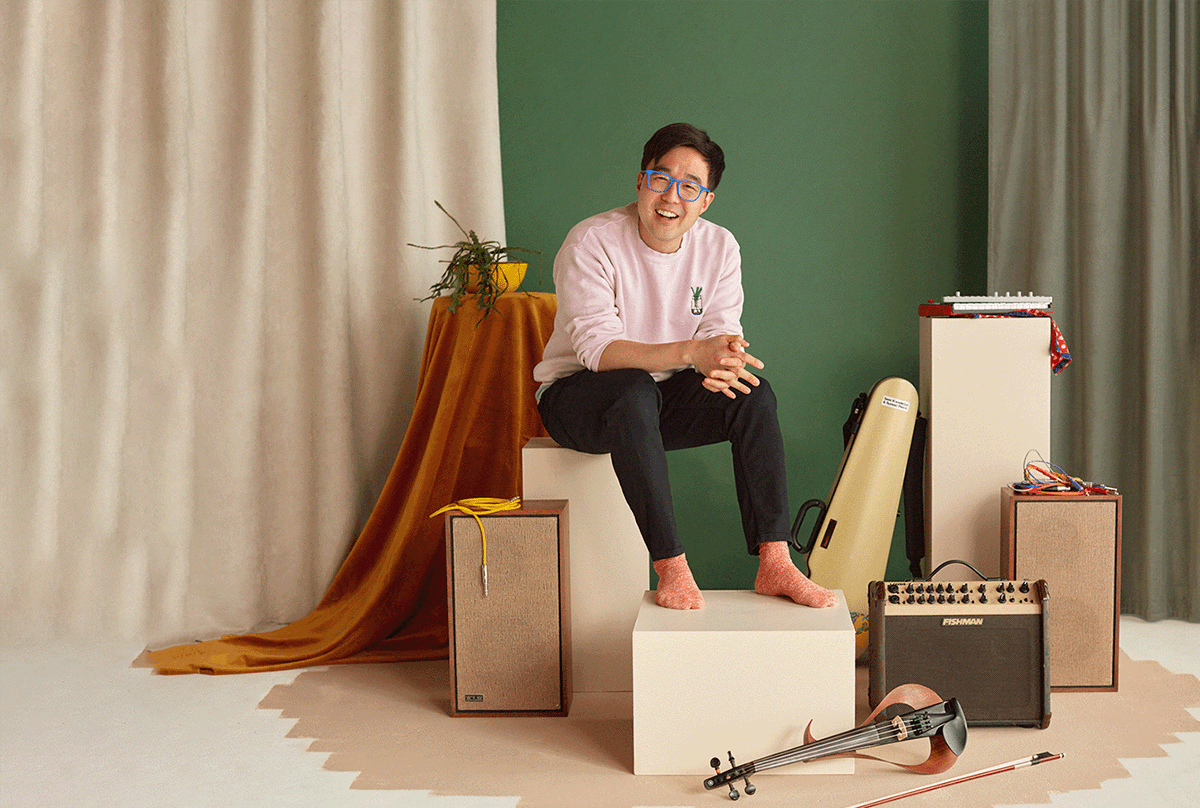 The Reser Presents
Joe Kye & The Givers
Date
May 19, 2023
7:30pm
Pricing
$25
Joe Kye & the Givers, featuring Austin Antoine
Joe Kye & the Givers is Portland musician and storyteller Joe Kye's original music project, with songs inspired by Kye's immigrant upbringing.
A unique blend of jazz-pop, hip-hop, and world music, Joe Kye & the Givers' sound is distinctly original yet familiar, like blasting through outer space only to arrive at your childhood home. The project blurs genres and geographies, arriving at a transnational sound that grooves as hard as it pushes against boundaries. Energetic and emotional, joyful and virtuosic, Joe Kye & the Givers leave audiences "believing anew that something glorious awaits the lovers, the dreamers, and you" (Willamette Week).
Joe Kye & the Givers debuted in 2022 at the inaugural Tiger Tiger Festival in Portland, Oregon. 2023 brings highly anticipated shows along the West Coast followed by recording sessions for their debut album, slated for release in 2024.
Born in Korea and raised in Seattle, violinist- looper and vocalist Joe Kye has drawn rave reviews since launching his music career in 2013, "discharging world[s] of emotion" and delivering "divine messages" with his lush string loops and eclectic style (Guitar World). Drawing upon his migrant upbringing, Kye blends indie-rock, jazz, classical, pop, and world folk to create a unique sound that "leaves everyone in awe" (Sac News and Review). With his innovative use of digital effects and looping, Kye weaves together diverse textures, catchy melodies, and rich, sweet vocals to create songs that groove, uplift, and empower listeners: "A single violinist…one mesmerizing symphony" (Sacramento Bee).
After studying music and culture at Yale University, Kye left a career as a high school educator to pursue music full-time. Following the release of his acclaimed 2015 EP, Joseph in the Well, Kye toured the United States with performances opening for world-renown cellist Yo-Yo Ma and Senator Bernie Sanders, along with a nationally broadcast performance on NPR's Science Friday. He has been a keynote speaker for Multicultural Week at the Urban School of SF and worked with the United Methodist Church's General Commission on Religion and Race.
Previous collaborations include the Seattle Repertory Jazz Orchestra, the Sacramento Ballet, Alvin Ailey Composer/Percussionist William Catanzaro, and LA hip-hop artist Jason Chu. Kye has performed in venues like Benaroya Hall (Seattle), Community Center Theater (TEDx Sacramento), the Legislative Back-To-Session Bash (California), NAMM MainStage (Anaheim), the Baryshnikov Arts Center (NYC), and the White House. Kye is a Fishman and Neunaber Audio Effects sponsored artist, and has studied violin with Marjorie Kransberg-Talvi, John Kim, and Jim Mihara.
"Kye's music discharged a world of emotions within me…delivering a comforting divine message." Pauline France, Guitar World. 
"lovely and nimble…a la Andrew Bird" – Dave Christensen, Oregon Public Broadcasting 
"Anyone in the audience who hadn't heard of Joe Kye before will certainly remember him now: his solo set's lush violin loops left everyone in awe." – Sacramento News & Review 
"Weeping violins, bouncy rhythms, ambient sounds, and the occasional featured rap verse…melding of musical styles Kye is so loved for." – Julia Coakley, WPTS 
"A single violinist…one mesmerizing symphony." – Sacramento Bee 
Austin Antoine is a performance artist that blends music and poetry. All of his passions effortlessly mix with abilities that span from singing soulful solos to conquering an opposing rapper in a contest of improvised wit. After graduating California Institute of the Arts in the Bachelor of Fine Arts program for theater, Austin has sustained artistic success through touring performances, musical collaborations, and hosting creative workshops. His work can be seen with NBA 2k, Viacom CBS, Sofar Sounds, Guinness Book of World Records, and Buzzfeed.
He also stars in the 2021 film "Summertime", directed by Carlos López Estrada.
His latest EP The Rest is History is now available on all streaming platforms.
Performance run time: 45/20/45
Buy Tickets