\
Live Wire with Luke Burbank
The Reser and Live Wire Present
Live Wire with Luke Burbank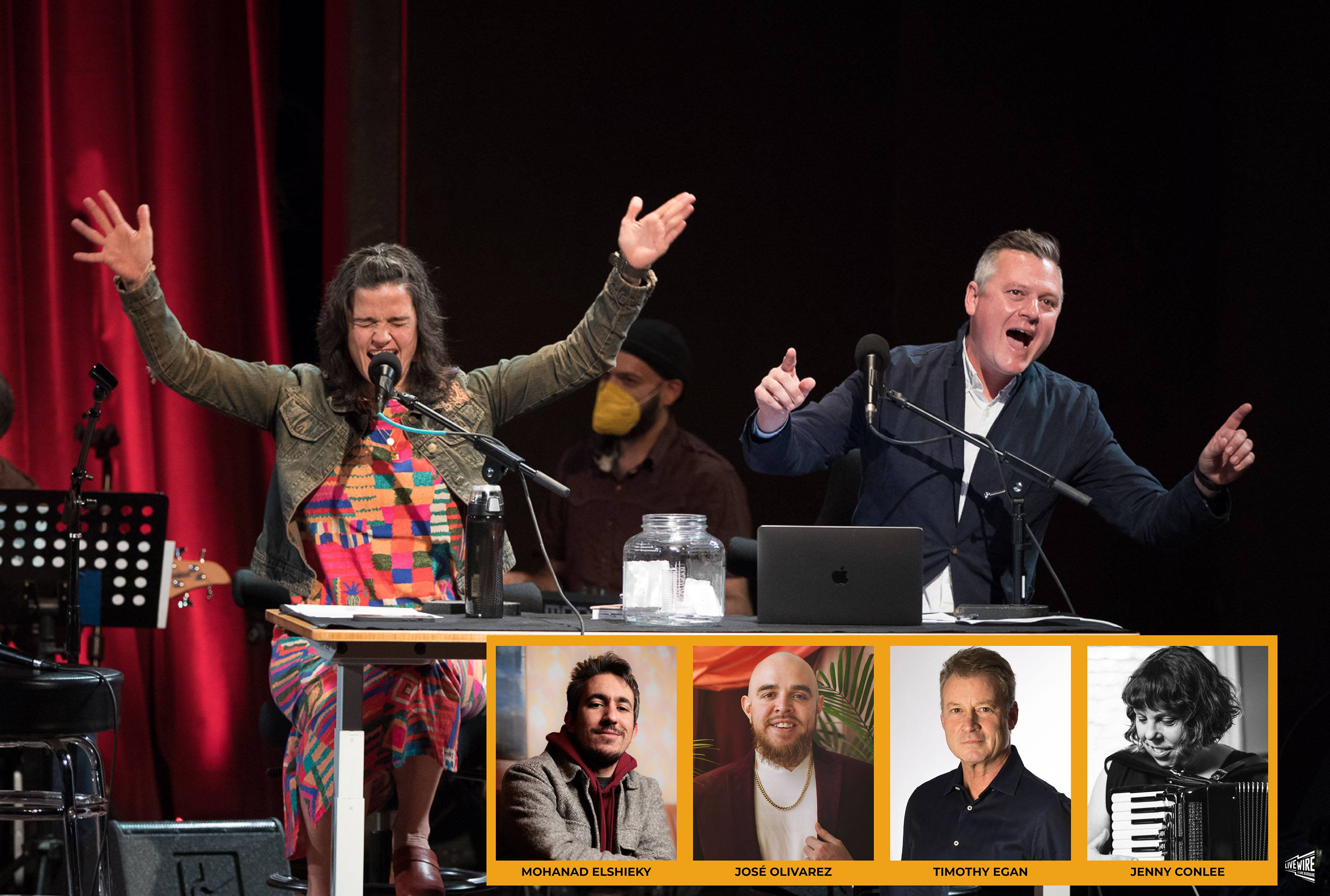 The Reser and Live Wire Present
Live Wire with Luke Burbank
Date
April 27, 2023
7:30pm
Pricing
$25 – $35
Live Wire at The Reser with Jenny Conlee, Mohanad Elshieky, José Olivarez, Timothy Egan, and more!
Live Wire Radio is an independently produced radio show and non-profit based in Portland, Oregon. Hosted by Luke Burbank and announced by Elena Passarello, the show artfully blends unpredictable conversation, live music, and original comedy featuring all kinds of cultural talent and creative minds, from emerging artists to established acts. We champion discovery by producing witty, engaging, spirited, and genuine live and listening experiences for our audience and for ourselves.
"Live Wire is a joy of a show and a joy of a community. I'd return at the drop of a hat! It's where I go to have a great time as a guest and as a listener." – Aubrey Gordon, Author, Your Fat Friend 
Jenny Conlee, the multi-instrumentalist best known for her 23-year tenure as a member of indie icons The Decemberists, is stepping once more to center stage with the release of Tides: Pieces for Accordion and Piano. The humble yet deeply emotional album of instrumentals finds Conlee pulling from her vast well of influences and knowledge to work in a more neo-classical mode. Written during a week-long artist's retreat on the coast of Washington State, Conlee found inspiration within the natural environment she was surrounded by: the ocean, sand, dune grass, wind, and a hawk she spotted hunting along the beach. The finished compositions are like an oil portrait of a seaside scene — multi-colored, richly textured, and able to draw on sense memories buried deep within the mind and body.
José Olivarez is a literary star on the rise and the son of Mexican immigrants. His debut book of poems, Citizen Illegal, was a finalist for the PEN/Jean Stein Award and a winner of the 2018 Chicago Review of Books Poetry Prize. It was named a top book of 2018 by the Adroit Journal, NPR, and the New York Public Library. Along with Felicia Chavez and Willie Perdomo, he co-edited the poetry anthology The BreakBeat Poets Vol. 4: LatiNext, and his latest collection of poetry Promises of Gold, translated into Spanish by poet David Ruano, has already been described as "visceral and moving." When he's not writing, he cohosts the poetry podcast The Poetry Gods.
Mohanad Elshieky is a New York-based comedian who has made his national tv debut on Conan, has been featured on Comedy Central, and toured with the beloved POP UP Magazine. He has appeared in an episode of Epix's "Unprotected Sets" and was listed as one of Thrillist's "50 Best Undiscovered Comics." Mohanad, who most recently worked as a digital producer on Full Frontal with Samantha Bee, has a special skill for making you laugh at the seemingly unlaughable. The Libyan-born comedian combines a deceptively laid-back demeanor with his whip-smart perspective on politics and culture. The Portland Mercury called him "an undisputed genius of comedy," and he's been featured on podcasts such as Lovett or Leave It, Pod Save The People and Harmontown.
Timothy Egan is a literary superstar. He is a Pulitzer Prize-winning reporter and the author of eight books, most recently The Immortal Irishman, a New York Times bestseller. Furthermore, his acclaimed book on the Dust Bowl, The Worst Hard Time, won a National Book Award for nonfiction and was named a New York Times Editors' Choice, a New York Times Notable Book, a Washington State Book Award winner, and a Book Sense Book of the Year Honor Book. Egan returns to the literary scene with his latest book, A Fever in the Heartland, which is a historical thriller that investigates and unravels the Ku Klux Klan's rise to power and the woman who stopped them. In his free time, he writes a weekly opinion column for The New York Times.
Run of show 120 min with no intermission.
Buy Tickets