\
Youth Concerts: The Portland Cello Project
Music Workshop and The Reser Present
Youth Concerts: The Portland Cello Project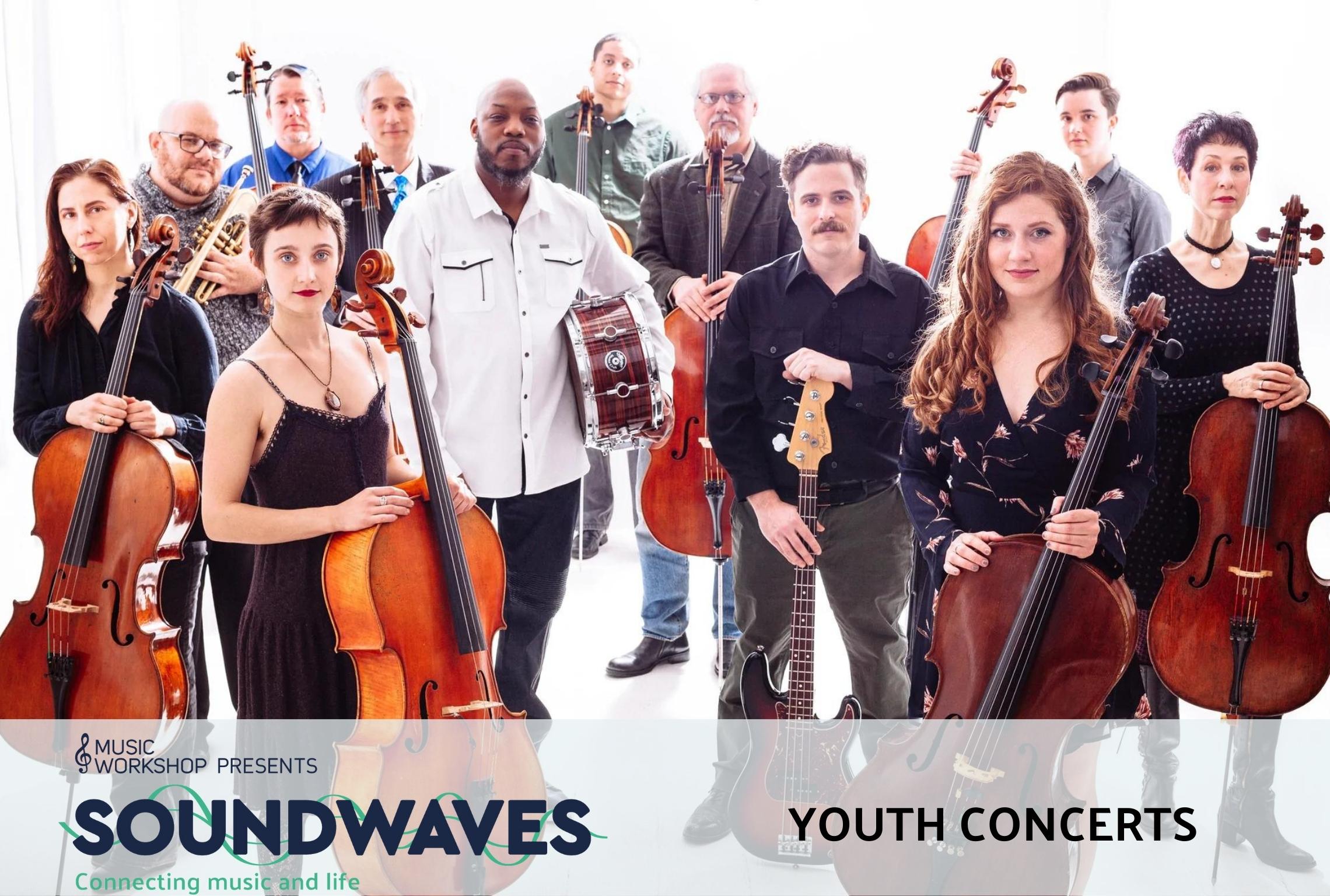 Music Workshop and The Reser Present
Youth Concerts: The Portland Cello Project
Date
August 23, 2022
Pricing
FREE
This concert is specifically geared to young people (recommended for ages 8 and up) and all minor attendees will need a supervising adult in attendance with them throughout the performance.
The Portland Cello Project is a nationally-recognized performing, recording and educational group with a revolving cast of cellists. Cello Project (or PCP as their fans affectionately call them) have grown their following and now appear frequently around North America, from punk rock clubs to symphony halls, from street parties to exclusive private events.
The group developed a three-part philosophy that has mostly remained unchanged over the years:
To bring the cello places you wouldn't normally see it (from wild dance parties, to formal symphony halls, to street parties, to Millennium Park in Chicago…).
To perform music on the cello you wouldn't normally associate with the instrument alongside music from the Western Classical Tradition (from Pantera to Taylor Swift to Kanye West to Elliott Smith, alongside Bach, Rossini, and Saint-Saens, to name just a few…).
To build bridges between different musical communities through educational, community outreach, and through collaboration with myriad artists, from The Dandy Warhols to Garrison Keillor to Ural Thomas to Corin Tucker (Sleater-Kinney) to Jolie Holland to Peter Yarrow (Peter, Paul and Mary), among many others, and cellists such as Ben Sollee, Maya Beiser and Zoe Keating.
"[PCP] concerts are purposely suitable for all demographics: boogie-ing grannies, head nodding hipsters, budding middle-school musicians and everyone in between because bringing everyone together in a spirit of collaboration only adds to the philosophy of diversity that PCP proudly upholds."
Music Workshop's Summer Soundwaves Series brings young people and their families to The Patricia Reser Center for the Arts, for interactive performances with exciting and inspiring musicians. The musicians in this series represent a variety of genres and cultures and personally tell their stories and share their music, providing inspiration and encouragement to the youth to use music as a tool in their own lives. Young people will have the opportunity to experience, interact and engage with these exciting and inspiring artists – all free of charge. Each youth will receive a themed activity pack with colored pencils as well as healthy snack bags to take home.
Portland based Music Workshop is a 501(c)3 non-profit that creates and provides K-8 teachers with free access to high-quality, culturally responsive music education to more than 3.5 million students worldwide. Learn more at www.MusicWorkshopedu.org. We are bringing the world of music to students everywhere! Music is for everyone!
Funding for this project comes from the Oregon Legislature supported by Oregon Department of Education and overseen by Oregon Association of Education Service Districts.
Tuesday, August 23, 2022, 11:00 pm
Tuesday, August 23, 2022, 2:30 pm
General Admission, FREE, Reservations are required.
One adult chaperone is required for every 4 youth. To purchase tickets for groups of 6 or more, please contact the Reser box office.
If you'd like to ride MAX or Trimet to the concert, please email info@musicworkshopedu.org to request FREE day passes.
Facemasks are required indoors for all attendees, regardless of vaccination status. If you don't have a mask, we will gladly provide you with one.
Check out our Soundwaves Facebook page for more information @MusicWorkshopSoundwaves
Reserve Seats