PUSH/FOLD x PORTLAND SYMPHONIC CHOIR PRESENT
Vespers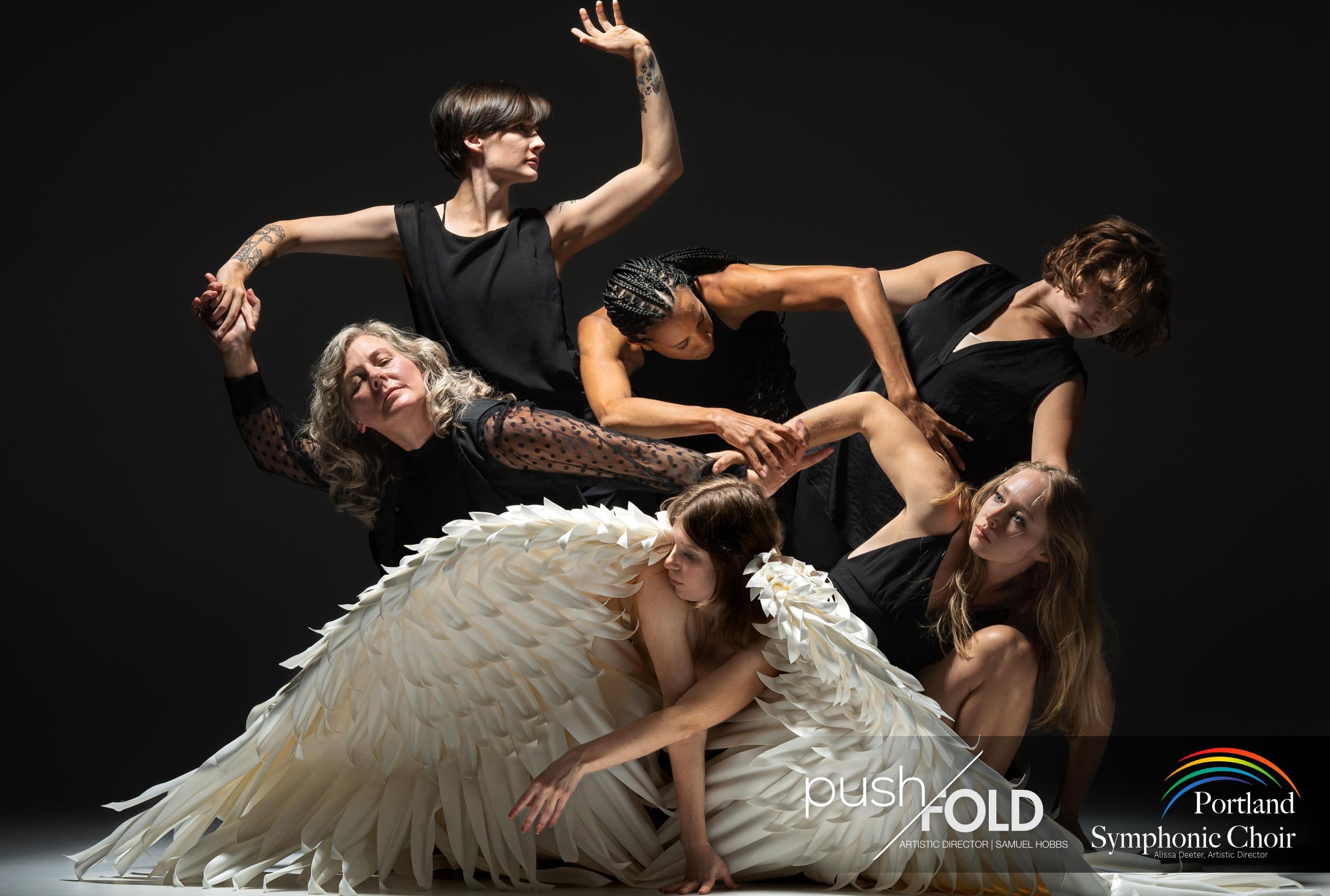 PUSH/FOLD x PORTLAND SYMPHONIC CHOIR PRESENT
Vespers
Date
January 19-21, 2024
Pricing
$5 – $55
In a historic first, push/FOLD and the Portland Symphonic Choir team up to bring to you the world premiere of 'Vespers'!
From award-winning composer and choreographer Samuel Hobbs alongside Dr. Alissa Deeter and the 80-member Portland Symphonic Choir, 'Vespers' is an exceptional fusion of virtuosic dance and live, choral brilliance. Join us for an evening of unparalleled beauty, emotion, and an immersive surround experience of movement and the human voice.
Click here to purchase LIVESTREAM tickets!
About push/FOLD
Performing nationally and internationally, push/FOLD is a rising star in the Pacific Northwest. Founded by multidisciplinary artist and composer-choreographer Samuel Hobbs, push/FOLD's signature athletic style fuses athletics with contemporary dance performance and fluid partnering, seeking transcendence with audiences.
Packaging education with high-caliber professional dance performance, push/FOLD is a multi-tiered dance/arts company devoted to service and the health of our community. Our ongoing programming includes masterclasses, workshops, presentations, student programming, dance-for-film, virtual and evening-length productions, artist talks, and our annual Union PDX – Festival of Contemporary Dance.
'Vespers' is the next evolution in push/FOLD's vision in expanding collaborations across the greater Portland-Metro areas.
About the Portland Symphonic Choir
The Portland Symphonic Choir has mesmerized the Northwest since 1945. Under the dynamic leadership of Artistic Director Dr. Alissa Deeter, the PSC is a beacon of excellence and dedication, igniting the passion for choral music in all types of enthusiasts – from their summer programming to their winter songs.
Renowned for its electrifying collaborations with major works alongside the Oregon Festival Orchestra and the Oregon Symphony, the PSC follows tradition in pioneering a new wave of interdisciplinary vision with push/FOLD for the world premiere of 'Vespers'. Past celebrated artists with the choir include: Jacob Avshalomov, Morten Lauridsen, Tomas Svoboda, and Bryan Johanson. Recent concerts have celebrated the heart-pounding rhythms and soul-stirring melodies of American music, taking audiences on an exhilarating journey through its rich history of song.
Contact the box office for $5 Arts-for-All tickets: (971) 501-7722
"… was simply poetic… the scenes looked like paintings." ~ Jamuna Chiarini (Oregon ArtsWatch)
"… mood like a modern-day Haydn." ~ Bob Hicks (Oregon ArtsWatch)
"… viscous, tenacious, and pulsing…" ~ Elizabeth Whelan (Oregon ArtsWatch)
"The Portland Symphonic Choir is truly a gift to the Portland music community…" ~ Phl Ayers (Northwest Reverb)
Buy Tickets