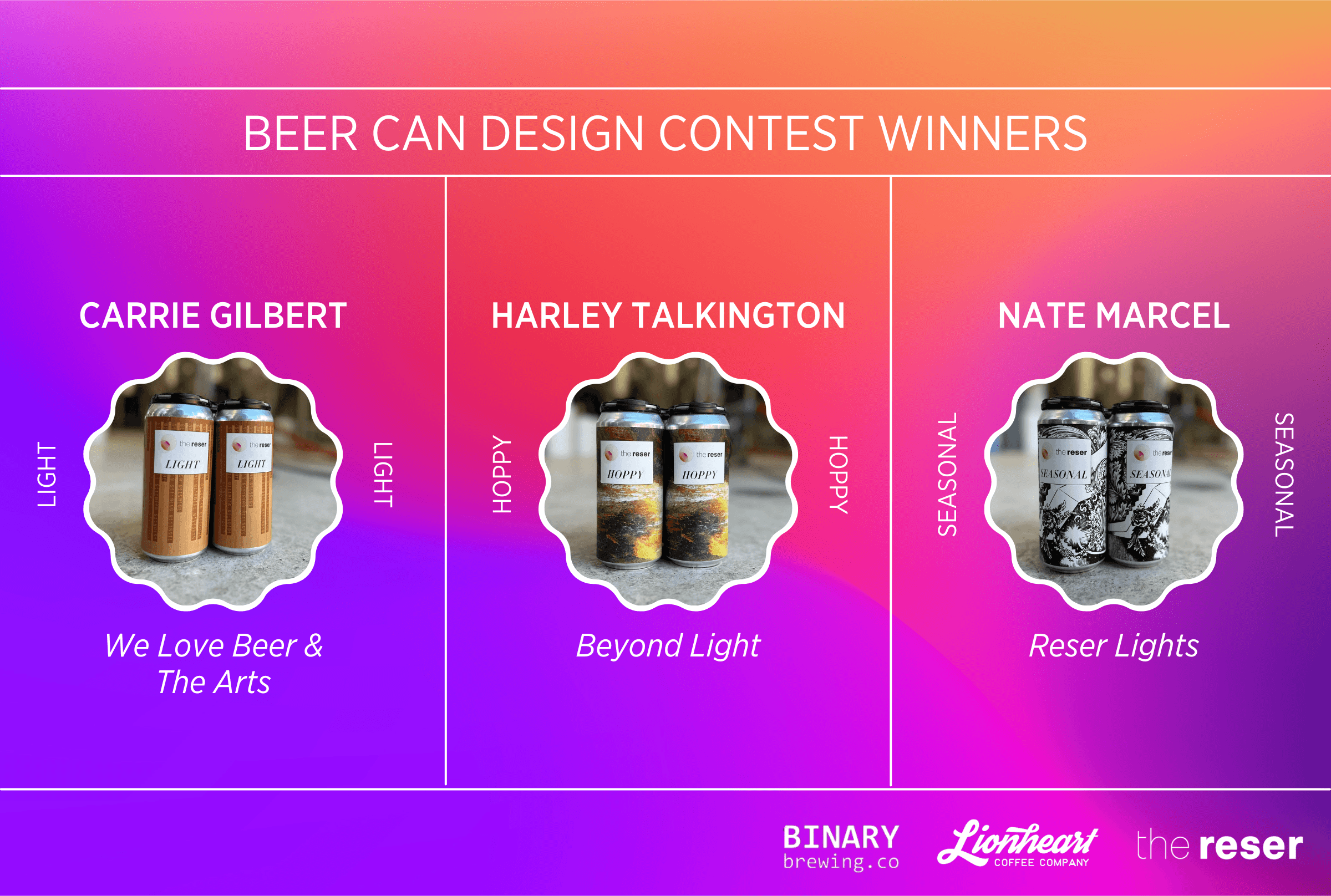 The Reser, Binary Brewing & Lionheart Coffee Launch Limited Edition Beers!
Posted September 22, 2023
Patricia Reser Center for the Arts, BinaryBrewing.Co and Lionheart Coffee Company release limited edition beers to celebrate The Reser's 2023-24 Season!  
The Launch Party is October 13, 2023
5 PM – 7 PM at BinaryBrewing.Co
12345 SW Broadway St, Beaverton, OR 97005
Lionheart Coffee Company and BinaryBrewing.Co are two community-centered micro-businesses located in Beaverton, Oregon. Lionheart Coffee Company serves concessions at The Reser and has collaborated with BinaryBrewing.Co to feature three beers (Light, Hoppy, and Seasonal) during the upcoming 2023 – 2024 season at The Reser. These beers will be exclusively available at all events at the Patricia Reser Center for the Arts, at BinaryBrewing.Co and at Lionheart Coffee Company.
Meet the Artists
The three limited edition beer can designs spotlight local artists:
Hoppy: Harley Talkington's pastel painting Beyond Light.
Light: Carrie Gilbert's unique binary coding We Love Beer & The Arts.
Seasonal: Nate Marcel's digital drawing of several architectural elements in Reser Lights.
Lionheart Coffee Company
Lionheart Coffee Company is a family-owned specialty coffee shop with two locations in Beaverton, Oregon. In its essence, Lionheart is a community gathering space that seeks to spark community around coffee. Lionheart has proudly served Beaverton since 2015.

BinaryBrewing.Co
BinaryBrewing.Co decodes classic craft ales and lagers in Downtown Beaverton in the old Beaverton Bakery blocks. Located a mere 2,047 ft away from The Reser, BinaryBrewing.Co serves up more than exceptional beer – their constant slate of community events will keep you engaged while their scratch-made menu will keep humans fed.
Patricia Reser Center for the Arts
Envisioned as an iconic, regional arts center located within the heart of Beaverton, Oregon, the Patricia Reser Center for the Arts seeks to enhance the cultural life of our region by bringing people together in a place that eliminates barriers and thrives on access, shared experiences, and open hearts. The Reser is a multi-use venue that offers artistic, cultural, educational, and entertainment opportunities for all—beautifully housed in a custom 550-seat Mainstage Theater.
The Art Gallery at The Reser
The Art Gallery at The Reser is dedicated to serving artists of all levels and abilities. Through our programming, we are proud to offer intentional and inclusive exhibitions featuring regional northwest artists, emerging talents, and occasional touring exhibitions that encourage patrons and the community at large to be actively engaged in the arts. We believe that providing quality experiences for artists, visitors and citizens alike benefits us all.