\
Flamenco Vivo Carlota Santana
The Reser Presents
Flamenco Vivo Carlota Santana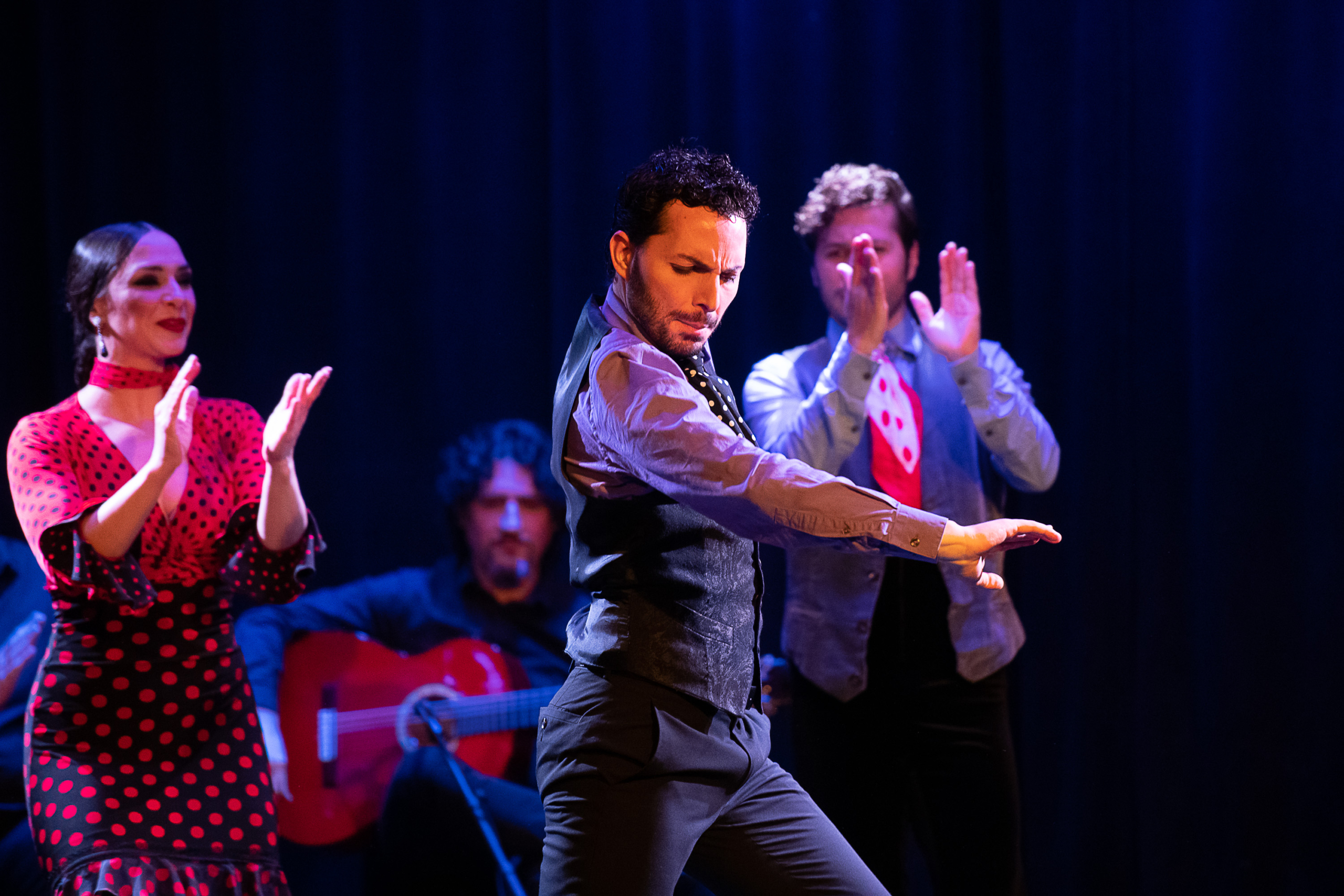 The Reser Presents
Flamenco Vivo Carlota Santana
Date
May 03, 2022
7:30pm
Pricing
$30 – $40
Internationally Renowned Artists * Flamenco and Spanish Dance
Flamenco Vivo Carlota Santana Dance Company upholds the purity and traditions of flamenco, while pushing the boundaries of the art form in new directions. Innovative music, resounding cante hondo, exotic movements—the artists' power and passion has electrified and educated audiences throughout the nation.
Flamenco Vivo is one of the nation's premier flamenco and Spanish dance companies. They believe that the universal spirit of flamenco, a multicultural art form, has the power to build bridges between cultures and inspire audiences from diverse backgrounds.
De la Frontera is a new evening-length work choreographed by José Maldonado and Karen Lugo, with an original score by Jose Luis de la Paz. De la Frontera is an investigation of life and connectedness. It asks: "What is stronger – what unites us or what separates us?" Despite the barriers we inevitably encounter from the moment we enter this world; we are driven to push beyond these obstacles and seek deeper connection. Using flamenco's innate ability to embody and express the full range of the human condition, Maldonado and Lugo probe our emotional boundaries by questioning their very existence. De la Frontera underscores that flamenco does not understand nor accept borders; rather it is our means of connection and expression, giving the artist power to supersede these limitations.  Hailed by the New York Times for his "bursts of brilliance and uncommon invention," Maldonado is the winner of the 2019 Premio Artista Revelación at the XXIII Festival of Jerez, an award for best up-and-coming artist. His last commission for Flamenco Vivo was heralded as "the rare flamenco group piece that doesn't stifle the individual spirit."
Carlota Santana, Artistic Director and Founder, has been designated "The Keeper of Flamenco" by Dance Magazine in recognition of her commitment to creating new works and developing young artists and choreographers. She has dedicated her company to the mission of building bridges between cultures using the universal spirit of flamenco.
The company promotes flamenco as a living art form and a vital part of Hispanic heritage; creates quality new dance works and presents them in major theatrical venues; presents arts education programs that catalyze connections among people of different cultures; and nurtures the next generation of Spanish dance artists and educators.
This performance is scheduled to run 80 minutes with no intermission.
This event is sponsored by U.S. Bank.
The safety of our patrons, artists, staff, and volunteers continues to be important to us. For Reser Presents performances – all patrons, regardless of age, are required to show proof of full vaccination or a negative COVID-19 test to attend events until further notice.
The Reser strongly recommends but does not require guests to wear masks in our building or when attending Reser Presents performances.
Buy Tickets