Chamber Music Northwest & BodyVox Present
NINETEEN*TWENTY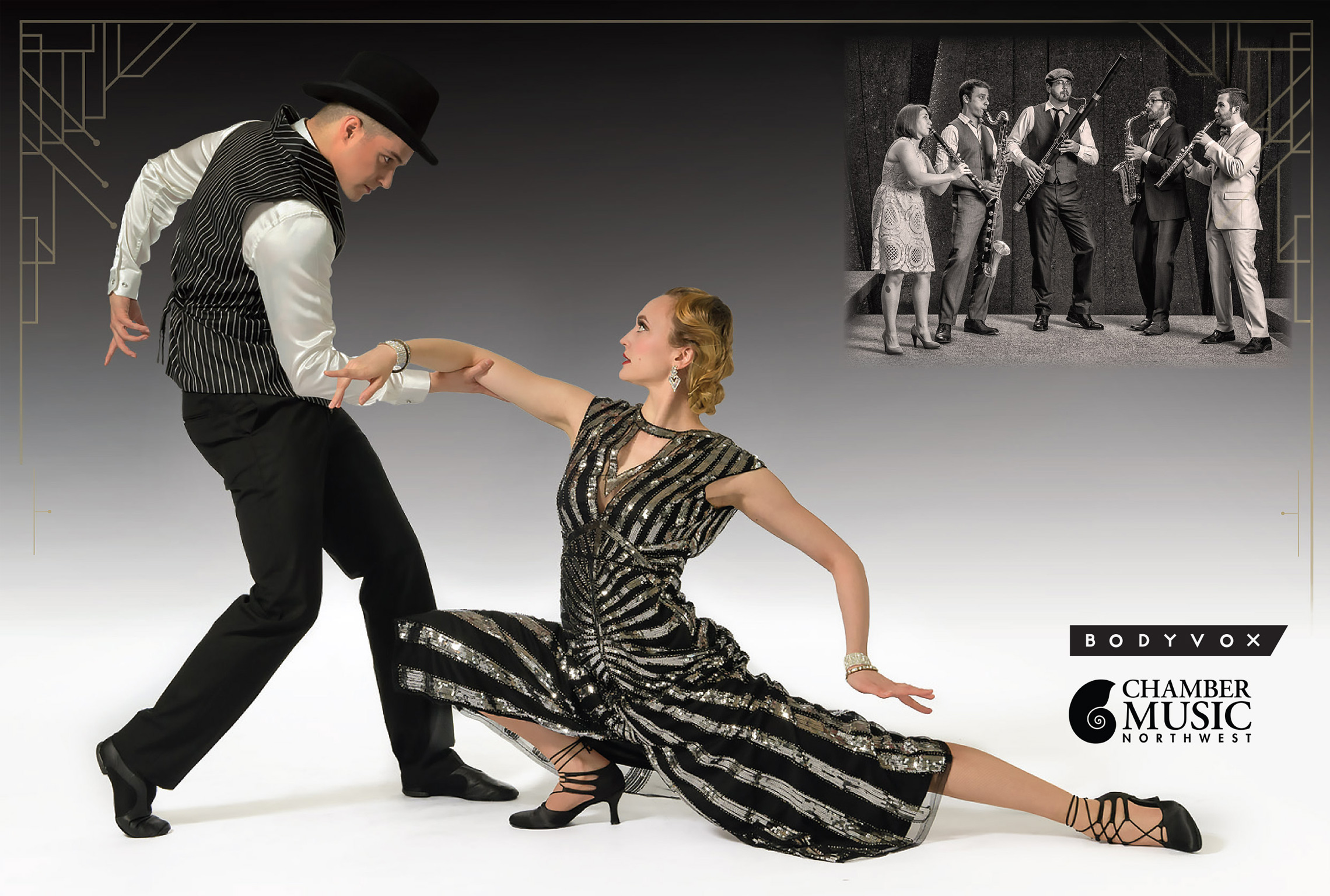 Chamber Music Northwest & BodyVox Present
NINETEEN*TWENTY
Date
March 17-19, 2022
7:30pm
Pricing
$30 – $64
Chamber Music Northwest and BodyVox, with the Akropolis Reed Quintet, collaborate to premiere NINETEEN*TWENTY, an exploration deep into the heart and soul of the 1920s at the newly opened Patricia Reser Center for the Arts. Delving into the explosion of creativity in music, art, and dance of this amazing era, we will translate these converging cultural forces into a performance of vivid, vibrant dance and imaginative, emotive music that's deeply theatrical, extremely physical, and undeniably entertaining. Delighting in the grit and the glitz with a sweeping, dazzling, high-energy show, NINETEEN*TWENTY will bring the rise and fall of this iconic golden era to life!
This is the sixth collaboration between Chamber Music Northwest and BodyVox that combines Chamber Music Northwest's world-class music and BodyVox's unique athleticism, humor, and rich imagery. Experience this long-awaited premiere — a hold-over from March 2020 — at one of the very first performances in Beaverton's stunning new Patricia Reser Center for the Arts!
Co-presented with BodyVox & Chamber Music Northwest.
Run time: 90 minutes.
There will be a 20 minute intermission.
PERFORMANCES
Thursday, March 17 at 7:30 pm
Friday, March 18 at 7:30 pm
Saturday, March 19 at 2 pm
Saturday, March 19 at 7:30 pm
Learn more about Akropolis Reed Quintet
Learn more about BodyVox
Learn more about Chamber Music Northwest
Buy Tickets