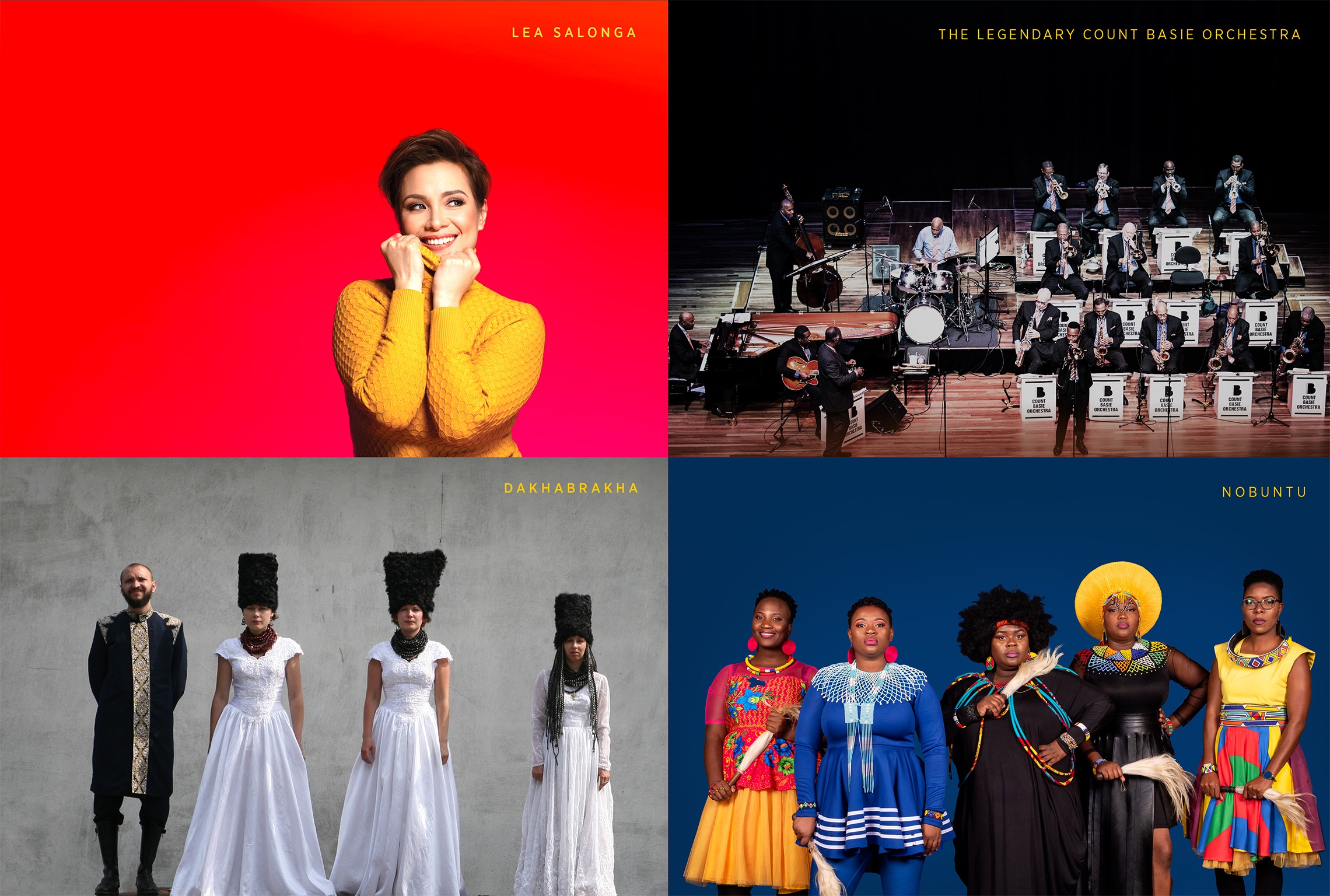 Patricia Reser Center for the Arts Unveils Upcoming Spring Season, Announces Grand Opening Week in March
Posted February 3, 2022
Performing arts center's first week of performances includes Nobuntu, The Legendary Count Basie Orchestra and Shine the Light: A Community Celebration
Beaverton, Ore. – The Patricia Reser Center for the Arts ("The Reser") has unveiled its opening season, and announced its grand opening week of events which will begin with a performance by Nobuntu on March 8 in commemoration of International Women's Day, and continue with The Legendary Count Basie Orchestra on March 12 and Shine the Light: A Community Celebration on March 13. The Reser Presents: Grand Opening Spring Season will host performances from March through June, with many additional shows from regional visiting presenters from across the metro area.
"As we announce our Opening Spring Season, we are led by our mission to bring the very best of the world to our stage, and to foster joy, connection, and understanding in our community," said Chris Ayzoukian, Executive Director for The Reser. "After many years in development, the Patricia Reser Center for the Arts is now complete, and it's stunning. We are incredibly excited to welcome everyone from the region into this beautiful facility safely and with open arms. Performances like Nobuntu, NASSIM, Lea Salonga and DakhaBrakha will showcase the breadth of talent, artistry, and diversity patrons will come to expect from The Reser."
Nestled near The Round between SW Cedar Hills Boulevard and SW Hall Boulevard, The Reser features a 550-seat theater, art gallery, rehearsal, workshop and meeting space, lobby, outdoor plaza and adjacent parking structure.
On March 8, The Reser will welcome Nobuntu, a five-part a cappella vocal ensemble composed of young women from Bulawayo, Zimbabwe. The name Nobuntu is an African concept that values humbleness, love, purpose, unity and family from a woman's perspective.
The Reser's opening week will continue with a performance by The Count Basie Orchestra on March 13. Pianist and bandleader William James "Count" Basie is an American institution that personifies the grandeur and excellence of Jazz. The Count Basie Orchestra, today directed by Scotty Barnhart, has won every respected jazz poll in the world at least once, won 18 Grammy Awards, performed for royalty, appeared in several movies, television shows, at every major jazz festival and major concert hall in the world.
On Sunday, March 13, The Reser will welcome friends and neighbors to experience the new center. This free day-long event will feature free performances and fun engaging activities for the entire family.
With tickets for all performances going on sale Wednesday, Jan. 19 at 10 a.m., the complete The Reser Presents Opening Spring Season schedule includes:
The Reser will also host numerous visiting presenters from across the metro area, including many arts and culture presenters and nonprofits. A complete list of performances can be found here: thereser.org/shows-and-events. For further details, continue to check The Reser's website: thereser.org.
Out of an abundance of caution, The Reser has implemented strict preventative policies. For entry, all ticket holders are required to show proof of full COVID-19 vaccination or a medically administered negative test taken within 72 hours prior to the performance. In accordance with state and local guidelines, face masks are required for entry and must be worn at all times, except for eating and drinking. The Reser has improved air circulation and filtration across all spaces, with hand sanitizing stations positioned throughout the center.
The Reser's design and construction team includes Skanska USA Building Inc., Gerding Edlen and OPSIS Architecture.
For high-res images, b-roll and additional press materials, visit: https://drive.google.com/drive/folders/1Sy8aj7tUum-Xwmm_iWPLsmJQdQa1XBoW?usp=sharing.
About the Patricia Reser Center for the Arts
The Patricia Reser Center for the Arts ("The Reser") unites artists, enthusiasts, individuals and communities, linking each with a sense of shared purpose and a touch of the sublime. The Reser is the cultural heart of a flourishing community centered in Beaverton, Ore. It continuously enhances the cultural life of the region, bringing people together in a space that's warm and welcoming, and where the art presented invites discovery, wonder and flights of imagination. The center eliminates barriers and thrives on access, shared experience and open hearts. The Reser honors the cultures and customs of its diverse community and, using the awesome power of the arts, creates opportunities for deeper understanding and authentic connections between people. For more information, please visit: https://thereser.org/.
The Reser Visiting Presenters Events
BodyVox and Chamber Music Northwest
Akropolis Reed Quintet & BodyVox: NINETEEN • TWENTY
Portland Baroque Orchestra
Voices out of the Darkness: Bach Cantatas
Portland Gay Men's Chorus
Learn to Fly
Kalakendra
An Evening of Indian Classical Instrumental Music TRIVENI with Zakir Hussain, Jayanthi Kumaresh and Kala Ramnath.
White Bird
White Bird Presents Versa-Style Dance Company
Beaverton Symphony Orchestra
Chamber Music Mashup
PDX Jazz
John Scofield
Friends of Chamber Music
Tambuco Percussion Ensemble
ISing Choir
Stuck in the Americas
Portland Piano International
Sublime; Never Ridiculous—Magical piano sonatas of Franz Schubert with Paul Lewis
Portland Piano International
Americana! Dramatic piano classics and a Wizard of Oz fantasy with Jon Kimura Parker
The Immigrant Story
I am an American
Portland Columbia Symphony Orchestra
Steven Byess, conductor, Rainer Eudekis, cello
Portland Youth Philharmonic
Camerata with piano soloist
Amadeus Chamber Orchestra
Origins
Portland Chamber Orchestra
Celilo Falls: We Were There
Beaverton Community Band
Our National Pastime